Angle grinders are one of those tools that seem to never be around when you need it the most. There's really no reason considering how affordable and versatile these power tools which have almost become a must-have as they offer a purpose you just won't find in other tools. Grinders take the hard-work out of sanding, grinding, sharpening, and buffing that saves you hours on each project and deliver results far better than what you'll get without one.
When looking at the numerous models of angle grinders on the market, settling for just one is almost impossible. Many consumers start with some of the top names in the business including Bosch, Makita, DeWalt and Metabo, but we've developed somewhat of a scientific method of determining the best of the best.
This review looks at the Top 20 Angle Grinders in 2019 as we've already done the hard work for you leaving you with the only thing that matters.
10.0/10
Ergonomically designed
15000 rpm powered motor
Lock-on/off switch for regulation
Rotating handle design for ease and accessibility
Armature winding for preventative maintenance
Can be slightly heavy to carry
Bosch headlines this review like they've done so many times, this time with one of the most versatile angle grinders ever introduced. Giving you the ability to use either a 7-inch or 9-inch disc, you can rest assured you're getting a single model that performs like two.
The Bosch 1853-5 is a large grinder that offers plenty of real estate which cuts down your time on task significantly. Some of the most notable features include a powerful 15-amp motor delivering 15,000 RPM. The power packed in isn't all there is which includes a metal gear cover, on/off lock switch, vibration control side mount handles, and gives you the ability to plug into either AC or DC power.
9.9/10
Labyrinth construction
ZigZag Varnish protection
Powerful motor delivers quality outputs
Excellent for cutting and grinding
Does not come with a carrying case
A little on heavier side
This angle grinder from Makita is a performance based model and delivers optimal results for those keeping track. Scoring a near perfect 10, the Makita GA7040S aims to please and delivers with superior results highlighted by a powerful 15-amp motor giving you speeds to 8,000 RPM. With speeds like this you can expect to cut your time down significantly as this tool gives you super-fast material removal.
This 7-inch grinder features soft-start technology. This gives users a smooth startup and minimizes any kickback felt with other models. For improved comfort, there's the handle offers vibration grip control helping reduce shock. Other features include a tool-less guard change, rear handle that rotates to many positions, and numerous construction seals which keeps the dirt and other debris from contacting the vital parts of the tool.
9.8/10
Durable and long lasting
Provides a lot of power for tough tasks
Amazing warranty policy
Protected from dust and debris
Zero drawbacks reported
Slightly costlier than other angle grinders
For those looking for a high-performance grinder that is affordably priced, then considering the 3rd option in this review is for you. This DeWalt grinder scores an impressive 9.8 out of 10 and has become a top-seller according to consumers. The tool itself may be simple, but the performance is everything, but which is highlighted by a 13.0-amp motor delivering 9,000 RPM.
This 6-inch angle grinder is a lightweight, portable model, but don't let the small size fool you. For a small angle grinder, it was made to last and features a slew of onboard features which helps keep the tool running optimally for years to come.
Noted is a dual clutch which helps minimize any risk of the motor burning up or stripping out the gears and there's also dual abrasion protection which helps keep the motor clean from any debris.
9.8/10
Variable speed settings
Compact and space-saving design
Sturdy construction
Durable and long lasting
Smooth and uninterrupted performance
Powerful motor
Some consumers may find it a bit pricey
This Metabo angle grinder is one of the newest models on the market, but has made quite an impression in very short amount of time. The flat head design allows you to reach areas that once was impossible boasting an industry leading reachable angle of just 43-degrees. There's much more than the angle that makes this grinder stand out which is highlighted by a variable speed control giving you precise control from 2,000-7,600 RPM.
The Quick INOX works with both 4 ½ and 5-inch discs which is rated as a small angle grinder. Perfect for all types of projects despite its smaller, compact size. Notable features include a safety clutch which reduces tool kickback, die cast construction and it's fully protected from with electronic overload protection.
9.5/10
Light in weight and easy storage
Easy handling
You can adjust the handle
Removes material faster
Higher overload protection
Motor might get damaged if fallen on the ground
Not portable
DeWalt is one of the more popular brands in power tools and if they keep introducing tools like this 4 ½-inch angle grinder don't expect that to change anytime soon. Featuring a paddle switch with a no lock-on feature which makes it safer and easier to change out the disc. Its powered by a 9-amp motor, allows you to connect to both AC and DC electricity and gives you speeds to 12,000 RPM.
Users have noted a significant upgrade in material removal. Aside from speed, it boasts a one touch guard feature which allows you to rotate the guard to 360-degrees, side handle which can be mounted for right and left-handed users and a 5/8″-11 spindle which accommodates accessories of 4 ½-inches.
9.5/10
Adjustable settings
Durable construction
Works well on high speed
Easy to operate
Smooth performance
This Metabo angle grinder isn't for all users, but specifically introduced to meet the needs of more experienced people. This high-performance grinder is second to none which offers a performance based package starting with the 14.5-amp motor which delivers a consistent 9,600 RPM. These speeds make for quick removal of material and allows you to sharpen, polish and work with any project you have in mind.
The Metabo WEPBA17-150 QUICK comes in with a higher than average price which won't appeal to all, but will appeal to those looking for a grinder with a whole slew of upgrades. Notable upgrades include a fast brake system, dead-man paddle switch, auto balance system, and S-Automatic safety slip clutch which gives the user optimal control.
9.4/10
Best for small to medium duty tasks
Very light in weight
Faster material removal
Comes with wrenches
Easy to carry
Does not come with overload protection
Drill Master doesn't have the name like other manufacturers in this review, but this cheap angle grinder offers an affordable price, but nothing else we would say that's cheap. This grinder comes in as the best deal in this review with a price tag around $25, but performs like many others priced much more. For durability, it's made with all ball-bearing motor which keeps it running smooth for the life of the tool.
This 4 ½-inch angle grinder runs off standard 120v which means can be found anywhere. The gear case is meant to take a beating which is made of a strong cast aluminum which is durable, but still lightweight. Other features include a handle that can be mounted in two-positions, spindle lock and carbon brushes which are simple to replace.
9.4/10
Ergonomic design
Economical
Durable
Good value for the money
Excellent for daily use
No variable speeds
Can be shipped to USA only
For those looking to have their money take them far, this Makita grinder is aggressively priced. Giving you a high-performance model at a bargain price starting with a 9-amp motor which delivers an efficient and smooth 10,000 RPM.
The versatility of this grinder comes with the option to run off AC or DC power with a selector switch. For more, there's a side mounted handle which can be positioned on either side, no-lock button, spindle lock and all-bearing construction which means less maintenance on the motor and gear system.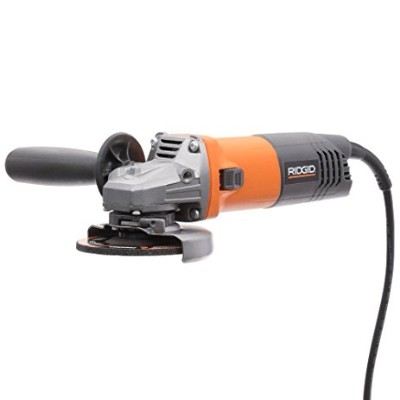 9.4/10
Works at a high speed
Lightweight makes it portable and easier to hold
Safety and comfort features incorporated
Requires no batteries for operation
Stable and durable
Cord may get really hot and melt
Another affordable grinder making this review is this 8-amp model scoring a 9.4 out of 10. With Ridgid's 1st appearance in this review it's no surprise considering it boasts a perfect 5-star consumer Amazon rating. For starters, it comes in well under the price of comparable models and gives you plenty of power with an 8-amp motor delivering plenty of RPM's.
The Ridgid R1006 gives you a durable made model which ensures a longer life than former models. Included out of the box is a grinding wheel, wheel guard, spanner wrench, clamp nut, and side handle. You also get the piece of mind knowing the tool is covered for life giving you free parts and service as long as you register it when after it arrives.
9.4/10
Powerful motor
Sturdy construction
Durable and long-lasting
Versatile features
Compact design
No drawback has been reported so far
This small angle grinder from DeWalt gives you the best of both worlds as it offers superior performance for a smaller grinder and at a price we can appreciate. At this price you wouldn't expect much, but DeWalt managed to pack it all in starting with an efficient output through the 9-amp motor giving you speeds to 12,000 RPM.
The powerful motor assures quick stock removal and can be used for all types of grinding, sanding, polishing and sharpening projects you have in mind. Perfect for the shop and offers a compact design which fully compliments the one touch guard, quick change wheel release, and side mount handle which can be moved to either side.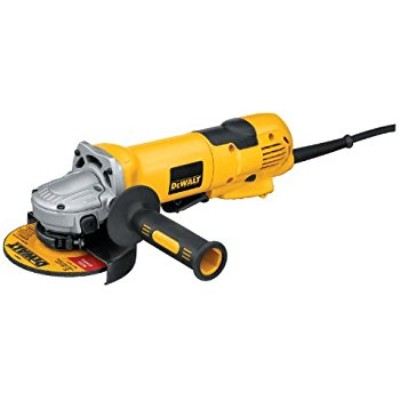 9.3/10
Dual abrasion protection
Electronic control management
Dust ejection system
Quick wheel replacement
A long lasting machine
Expensive
Made for professionals
From DeWalt, this is another angle grinder which delivers only the best results and has received a near perfect rating from numerous Amazon consumers. What makes this grinder stand-out from the rest is the 2.3HP motor which gives speeds to 11,000 RPM. The newly introduced G55 motor was specifically introduced to remove material faster and easier and it does just that.
The DeWalt D28114 gives you the flexibility to use a 4 ½ or 5-inch disc. This gives you more flexibility which is best-suited for more serious users as this tool holds nothing back. Onboard there's a dust ejection system which keeps dust and other debris from interacting with the motor, a release which makes for quicker wheel changes, and a complete electronic control system which integrates the best in power tool technology.
9.3/10
Vibration-reducing handle ensures the user's comfort
Non-locking paddle switch allows better control and safety
Durable product with a high resilient motor
Tool-less guards allow adjustments according to what the users want
Gearing system provided
Requires external casing from unnecessary damage
Can be loud, particularly during persistent use
Milwaukee introduced an amazing bargain with its 4 ½ – 5-inch pad which provides a good size disc that makes it feel bigger than it really is. The extremely lightweight design makes it highly portable coming in around 5-pounds perfect for the DIY'er on the go.
The Milwaukee M18 is a serious upgrade over the former model improving on both durability and ease of use. Users of all skill levels will find it simple to use and there's plenty of comfort features including an anti-vibration side mounted and rear handle.
9.2/10
Compact and accessible
No stress of expenses or replacement of batteries
Convenient due to it light weight
Small microprocessor
Durability and protection due to metal gear casing
More accessories due to 3-side spindle lock
Does not feature a grinding pad
The on and off switch can become a little difficult to press
Black and Decker has become a regular name around the toolshed as they've managed to release tools of every type. Their lineup of angle grinders is some of the most affordable and best-suited for those not looking to shell out a fortune. This 4 ½-inch grinder is a perfect example offering a cheap price tag while delivering good performance with its 6.5-amp motor.
Perfect for small to mid-range projects, this tool offers a simple to use operation perfect for newbies. Onboard you'll find a side mount handle which can be positioned in any of three locations along with a comfort grip, 5/8 to 11 inches spindle, spanner wrench, metal grinding wheel and Black & Decker backs their product with a 2-year limited warranty.
9.2/10
Slow start prevents recoil
High power motor
Fast stock removal
Adjustable handle
This Fein grinder is a 9-inch model which is one of the bigger one's in this review, but has a price tag that comes in at the higher end of the price range. For those looking to polish, sand, grind and do much more while getting pristine results every time, this grinder is for you. Available in three sizes including 6, 7 and 9-inches, you can rest assured you get what you really want.
When it comes to Fein, you know you're getting a high-performing power tool with superior craftsmanship. Featuring a self-start lock which diminishes the risk of accidental startups when changing out the grinding disc. You'll also appreciate the added comfort with a comfort grip and handle that's adjustable.
9.2/10
Sturdy construction
Compact design
Portable
User-friendly and versatile features
Reasonable price tag
No major drawback has been reported by its users
The Metabo W9-115 is not for the tamed at heart, but is for those looking for performance and precision in one. This 4 ½-inch angle grinder gives you a lock-on sliding switch which prevents accidental starts making it safer and quicker to change out the wheel. Also noted is a long-life motor which has became a Metabo trademark which provides up to 50% more torque which sets up faster and easier stock removal.
The 10,500 RPM is plenty of speed to power through any task and you get more versatility than most with the option to use either AC or DC power. The long-life motor also gives you better dust protection up to 30% and 20% improved overload protection.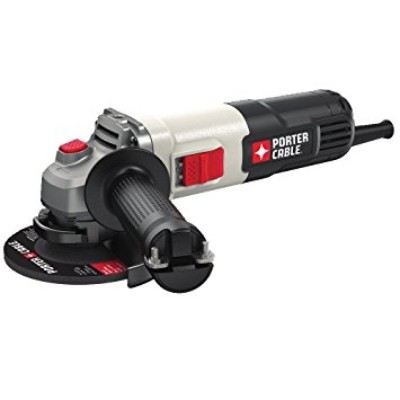 9.1/10
Lightweight adding to the portability
6 amp motor making it powerful
A metal case gear increases the permanency
Works at a good speed
Tool-free guard change allows adjustments to be done
Requires batteries as well for usage
May start smoking up
Another amazing value is this Porter-Cable 4 ½-inch angle grinder which is a small model that gets you a whole lot of performance for the price. Starting out, this tool gives you an efficient 6.0-amp motor which makes it a great addition to any jobsite. Easy enough for all skill levels including newbies who state it's one of the easiest to learn on.
The PCE810 is made of durable construction with a metal gear casing which protects the motor and internal gears. The guard which doesn't require any tools makes for safer and easier guard changes which minimizes down-time and allows you to work with ease.
9.1/10
Least fatigue to the user due to low weight
Good enough power for medium duty tasks
Durable and long-lasting tool
Adjustable side handle
Not made for heavy duty tasks
Deserving the 17th spot in this review is a Makita grinder which scores a 9.1 out of 10. Giving you an affordable option which offers a lightweight and comfortable design which significantly reduces user fatigue. This allows the user to be more productive and accomplishing more of what you set out and saving you time while you do it.
This 5-inch grinder is made of all ball bearing construction which makes the lifespan of the tool longer then most. Other features include a spindle lock which makes for easier accessory changes, AC/DC switch to use with alternative power sources, and a side handle that can be removed for improved user comfort.
9.1/10
Optimum material removal
Dust ejection system
Overload protection system
Lightweight tool is easy to use
High performance tool
Does not come with a casing
This DeWalt tool is powered by a 13-amp motor delivering a robust 13,000 RPM. At speeds like this you would only expect swift material removal and it doesn't skip a beat. When it comes to performance, you get that also outfitted with a high-performance trigger switch which makes operating more comfortable, especially for longer, continuous use.
Some of the most recognized features include a dust ejection technology which does a great job protecting the motor and gears from dust and other debris. There's also an E-clutch that keeps it from stalling or bogging down and activates under a pinch or when it senses a stall imminent.
9.0/10
Easy-to-use
Durable
High overload protection
Better control
Debris baffles protect internal components
Creates a loud noise
Heavier than other grinders
Milwaukee claims the 19th spot in this review with a large 7/9-inch model giving you plenty of pad to handle larger tasks with ease. Made for quick material removal, this grinder a great deal of power with its 15.0-amp/4.2HP motor and is well-protected with high-overload protection which is optimal with larger, more complex tasks.
There's also a ROTO-Lok feature, 9-position handle that rotates giving the user plenty of positions to choose from optimizing comfort, and brush doors on the outside, and deflecting baffles which keeps debris outside the airflow.
9.0/10
Metal gear case increases the shelf-life
A tool-less guard provided which can be adjusted
Works at a better and a quicker speed
A 3-position handle provided for better grip and use
No batteries required to operate it
Constantly holding the paddle switch might cause discomfort instead of having an on and off switch
Might overheat and stop working
Closing this review is a Porter-Cable grinder which is a 4 ½-inch model scoring a 9.0 out of 10. This tool is another bargain and comes in below $50 for those looking for a cheaper alternative. Delivering 11,000 RPM through a 7-amp motor giving you more speed and power compared to other grinders in its price range.
This 7-amp model has a 4 ½-inch grinding wheel and is encased in a durable cast metal gear case. The handle can easily be moved to one of three positions which allows you to customize the tool and the guard makes for quick and simple adjustments and doesn't require any tools to change.
Conclusion
This review of the best angle grinders in 2018 was intended to give you the best information possible to make your decision based on what you're truly looking for. When it comes to grinders there is no better place as we've looked at hundreds of models to give you 100% honest, unbiased reviews.
If you're looking for more, be sure to leave us a comment below and we'll get back to you as soon as we can.