4-inch angle grinders are where it all started as these smaller, yet efficient power tools get more done then you think. We always seem to need one, but they're never around which helped propel these tools into being some of the most sought after. The simple, yet dynamic projects we finish with a grinder makes it all worthwhile and otherwise impossible without one.
When looking for the best 4-inch angle grinders it takes a panel of people who really know what we're doing. This is where we come in as we've managed to look at every facet of the hundreds of models out there and picked out the 10 best models this year. We looked at everything from the base user's perspective while focusing on price, efficiency, durability and performance.
9.8/10
Easy to assemble and operate even by a beginner
Variable speed settings
Compact and space-saving design
Sturdy construction
Durable and long lasting
Some consumers may find it a bit pricey
Metabo is internationally known for introducing well-balanced high-performing power tools and this 4-inch grinder is no exception. Highlighted by a flat grinder which fits both 4 ½ and 5-inch discs gives you more bang for your buck and gives you everything we've come to expect from a Metabo power tool. Featuring the smallest angle in its class which allows you to work on 43-degree angles.
The Quick INOX is one of the newer models out there and boasts a perfect consumer 5-star rating on Amazon. This grinder is a high-performance model and features a variable speed control letting you dial in on 2,000-7,600 RPM. With this much control you would expect only the best results, and the INOX delivers that and then some.
9.5/10
Powerful motor
Light in weight and easy storage
Easy handling
You can adjust the handle
Removes material faster
Motor might get damaged if fallen on the ground
Not portable
DeWalt introduced a perfectly balanced 4-inch grinder which features a no lock-on switch which makes it simple and safer to change out the disc. This grinder makes quick work out of any material which is powered by a 9-amp motor delivering 12,000 rpm. With this amount of power, it makes any task faster and gives you piece of mind when using it continuously with onboard overload protection.
Notable features include a paddle switch, one touch guard that rotates 360-degrees, Quick-Change Wheel Release which allows you to change the wheel without tools, handle that can be moved to either side, and 5/8″-11 spindle thread that allows you to use 4-1/2″ accessories.
9.4/10
Easy to use and operate
Powerful motor
Sturdy construction
Durable and long-lasting
Versatile features
No drawback has been reported so far
DeWalt claims the 3rd spot in this review with this 4 ½-inch grinder that also features a paddle switch for added convenience and safety. Scoring a 9.4 out of 10 tells it all and there's plenty of consumer who agree with us where it has a perfect 5-star rating. Powered by a powerful 9-amp motor delivering 12,000 rpm while giving you the ability to choose your power source with a AC/DC switch.
The DeWalt DWE 4120 is one of the best-selling models on Amazon and comes in with a very affordable price tag. Perfect for use on all types of grinding, polishing, sanding and other projects you have in mind while offering a simple to use operation. Onboard there's a one touch guard that rotates 360-degrees, quick change wheel release, and handle that can be moved to either side.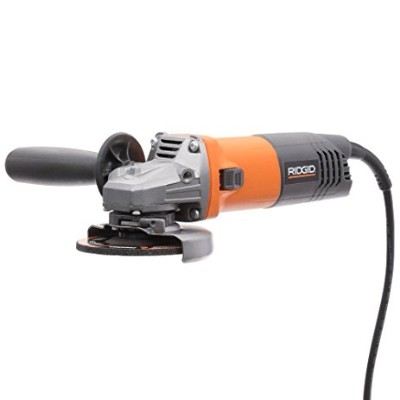 9.4/10
High power makes it more efficient
Works at a high speed
Lightweight makes it portable and easier to hold
Safety and comfort features incorporated
Requires no batteries for operation
Cord may get really hot and melt
Slide switch may be considered inconvenient
Ridgid has become a well-known brand in power tools and their lineup of angle grinders may be small, but always mentioned among the best. This 4-inch angle grinder is easily one of this year's best and offers a durable and efficient motor which gives you years of expected use.
Powered by an 8-amp motor which is plenty of power to take on all DIY projects you have in mind. Notable features include a grinding wheel, wheel guard, flange, side handle, spanner wrench, and comes in weighing only 5 pounds.
9.4/10
Best for small to medium duty tasks
Very light in weight
Faster material removal
Comes with wrenches
Easy to carry
Does not come with overload protection
Drill Master introduces one of the most affordable angle grinders in this review and it performs better than the price suggests. Coming in at around $25 makes this a steal, but when you stop to consider it offers much of what the more expensive models have it's downright amazing. Highlighted by a all-bearing motor which delivers smooth, consistent power and ensures the life of the tool itself.
This 4 ½-inch angle grinder has an aluminum gear case which proves it can take rigorous, tough use. Onboard you'll find a spindle lock, auxiliary handle that can be mounted on either side, and upgraded carbon brushes that are simple to change out.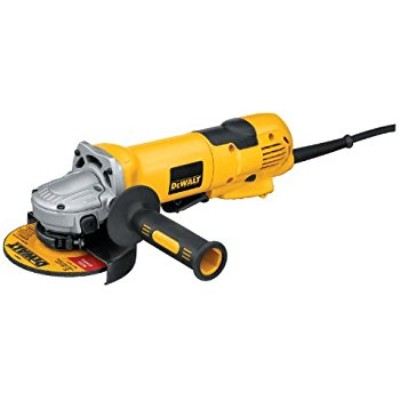 9.3/10
Dual abrasion protection
Electronic control management
Dust ejection system
Quick wheel replacement
A long lasting machine
Expensive
Made for professionals
For those looking for a true high-performance 4-inch angle grinder that can be used with both 4 ½-inch and 5-inch discs, then this is it. Coming in with the 6th spot in this review is the DeWalt model scoring a 9.3 out of 10 and delivers nothing but optimal results. Powered by a 13.0 Amp/2.3hp which delivers 11,000 rpm, this tool was specifically designed to rapidly remove material.
The DeWalt D28114 is not for everyone, but meant for those looking for a tool that was built to last and gives you the best finished product possible. With upgrades including a Quick-Change Wheel Release, E-Clutch, power loss reset, power-off, and Complete Electronic Control which is the best electrical powered grinder advancements.
9.1/10
Optimum material removal
Dust ejection system
Overload protection system
Lightweight tool is easy to use
High performance tool
Does not come with a casing
DeWalt aims to please which has them claiming 5 of the 10 spots in this review which is a testament for what they stand for in power tools. The name says it all, but this tool says even more delivering superior power and performance with its 13.0 Amp/2.3hp delivering 9,000 RPM.
There's numerous upgrades in power tool technology including E-clutch which automatically stalls the motor when a pinch or stall is detected. There's also a dust ejection system onboard which helps keep the vital parts free from debris and other material which minimizes the chances of undue damage being caused.
9.1/10
Great balance
Cordless grinder
Paddle switch design
World's first cordless grinder with corded performance
Metal housing and gearing system for legendary high performance corded grinders
Cannot completely replace corded grinders
Milwaukee is a name that needs no introduction, and for those of you who aren't familiar with this 4-inch angle grinder you'll wish you were. This tool has it all and is a cordless model which gives you more flexibility than most. Included out of the box is the grinder, carrying case, battery and charger.
The Milwaukee M18 FUEL is powered by a Red Lithium battery pack which is included. The battery is a significant upgrade over standard li-ion batteries while optimizing performance with a 2x run time over others. World-renowned as the first cordless grinder with the same performance as a corded model is what's made this model so popular.
9.0/10
Metal gear case increases the shelf-life
A tool-less guard provided which can be adjusted
Works at a better and a quicker speed
A 3-position handle provided for better grip and use
No batteries required to operate it
Greater portability
Constantly holding the paddle switch might cause discomfort instead of having an on and off switch
Might overheat and stop working
For those of you on a budget or looking for a quality 4-inch angle grinder that performs like more expensive models, then considering the 9th option in this review is for you. This grinder performs much better than the price suggests giving you an efficient 7-amp motor with speeds to 11,000 RPM. At this price you'll find it hard to find another model that removes material just as quick and backed by a brand like Porter-Cable.
This 4-inch Porter-Cable angle grinder features a durable cast iron case which helps protect the motor and gear system from damage. Other notables include a handle that can be moved to any of three positions improving user comfort and a guard which doesn't require tools which makes changing the guard fast and simple.
8.7/10
Lightweight of 1.6 ounces
Has an amperage capacity of 8 ampere
Thermal protection to prevent overheating
Electronic jam protection
Aluminum die-cast gear casing
Adjustments can be made to control the noise level
Finishing up this review is another Metabo 4-inch angle grinder which is a high-performance model and features a unique flat head. The compact, lightweight design is highlighted by the smallest reachable angle of 43-degrees compared to any other grinder in its class. Metabo introduced this design which helped change the way grinders should be which makes it more versatile then competitors.
The Metabo WEF9-125 gives you a durable grinder and does a great job protecting the gears with an die cast aluminum gear box. Other features include power interruption protection and electronic overload protection which helps protect your investment.
Conclusion
If you've made it this far there is no better time to buy a 4-inch angle grinder than now. We've detailed the 10 best models available today which gives you an in-depth look at all the top brands including some others you may not have heard of. If you're looking to buy, be sure to come back and tell us about your purchase by leaving a comment below so we can share your experience with the rest of the community.