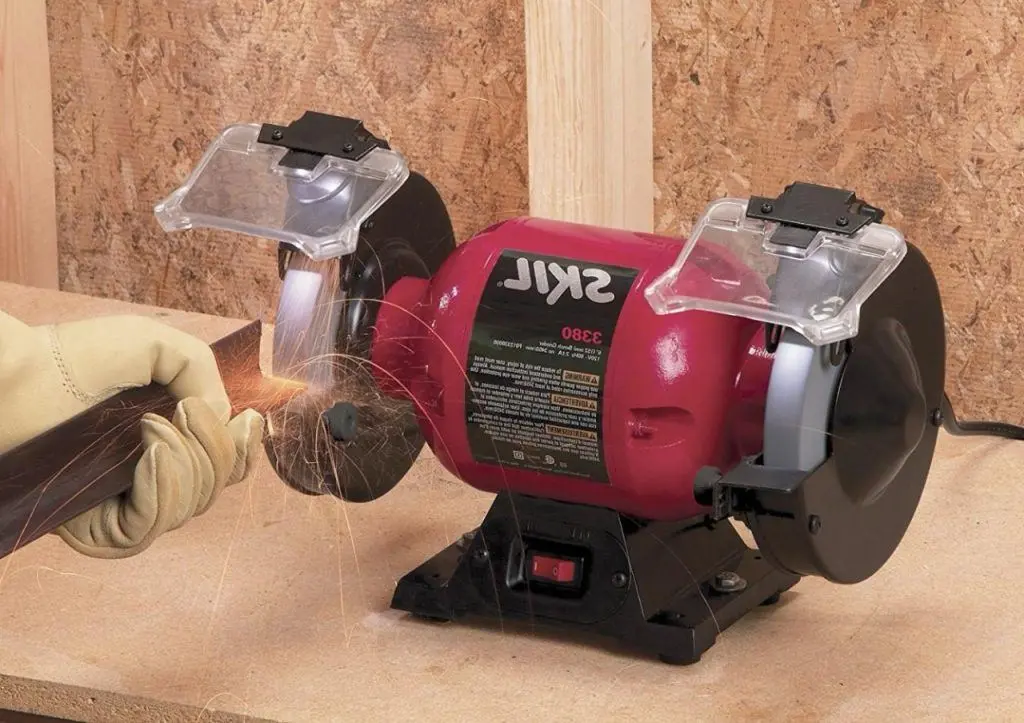 Bench grinders come in two different sizes including a 6 inch and larger 8-inch model. Both can handle similar tasks, but 4-inch bench grinders are better-suited for more common tasks leaving the heavy-duty projects to its bigger brother. While both offer amazing power, are simple to use and can still polish, grind, sand and similar tasks, it's the smaller model that's become more popular.
When looking at 6-inch bench grinders there are numerous models to consider. All the top names in power tools have introduced their take on these small bench grinders including Makita, JET, Grizzly, Delta, Baldor and many more. When looking for the best 6-inch models it's much harder than it looks considering the numerous models on the market today.
This review details the 7 Best Small 6-Inch Bench Grinders in 2019 which are sometimes referred to as small bench grinders. We've looked at everything from the consumer's and user's point of view while breaking down what makes these power tools standout from the competition.
9.4/10
8-ft long power cord is included
Durable and long-lasting
Reasonable price
Powerful motor
Well-suited for all types of heavy-duty grinding
No dust collection ports are available
This 6-inch Baldor bench grinder is our choice for the best option this year which scores an impressive 9.4 out of 10. This grinder acts bigger than what it really is as it performs more like an 8-inch model delivering high-power and excellent performance. Its ease of use makes it extremely popular with enthusiasts and the ability to grind, polish, sharpen and much more with ease makes it a must-have around the shop.
The Baldor 662R boasts a perfect 5-star consumer rating on Amazon and for many reasons. Standing out with a powerful 1/3HP motor delivering 5000 RPM's allows you to take on any job you have in mind. This bench grinder complies with all safety standards including OSHA and adds a tool rest which can be tilted to any angle.
9.2/10
Space-saving, sleek and compact design
Long-lasting investment
Available with a 3-year warranty
Rubber feet reduce vibration and ensure stability
Quiet operation
Some users may find it expensive
Baldor delivers another 6-inch grinder which has become popular for industrial use. This rugged grinder was made to last which is highlighted by a durable, strong exterior and all high-quality parts. Baldor has made a name for themselves with versatile power tools and this 6-inch grinder is yet another perfect example.
Claiming the 2nd spot in this review and standing out with a quiet, efficient and simple to use operation. Weighing in at just over 27-pounds makes it extremely lightweight and comes in being a great bargain for the price.
9.3/10
Well-suited for everyone, beginner or a pro
Sturdy construction
Available with warranty
Adjustable speed settings
Powerful HP motor
Not suitable for heavy-duty grinding
Dayton delivers an amazing 6-inch bench grinder which is a premium model and scores a 9.3 out of 10. Delivering extreme power with its 3/4HP motor which is surprisingly quiet and features a 2 ½-inch dust collection port which help keep your work area clean. Its ease of use makes it a great option for enthusiasts, but delivers plenty of power making it highly recommended for experienced users.
This premium 6-inch bench grinder was made to last and adds in an adjustable tool rest and eye shield. Outfitted with a 36 grit and 60 grit grinding wheel, you get everything you need for any project in mind. Other specs include a Phase 60 Hz, 5/8 In arbor hole, and wheel diameter of 8-inches. Not bad for the price which has helped make it a best-seller on Amazon.
9.0/10
Effortless assembly
Reasonable price
Sturdy and durable construction
Versatile and user-friendly features
Adjustable speed settings
May produce noise when used for an extended duration
Dayton introduces another affordable 6-inch bench grinder perfect for industrial and personal use. The ease of use makes it a great option and adding in features which are typically not found makes it a bargain at this price. Standout features include a dust collection system, 36 and 60 grit wheels, and ratcheting tool rest that fully adjustable.
The Dayton 2LKR7 delivers great power through its 1/3HP motor delivering no load 2000 to 3300 RPM at 3.5 amps. The wheel material is strong, and durable made of aluminum oxide which helps make it lightweight weighing in at just under 30-pounds. Other onboard accessories include hurricane bolts, 6-foot cord, and spark arrestors.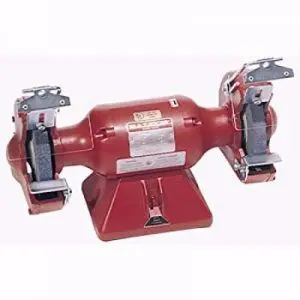 9.0/10
Long power cord
Reduced vibrations throughout the operation
Quiet performance
Reasonably priced
Durable structure
Some users may find it bulky to relocate
Baldor impresses us all again with the 612R which is one of their newer 6-inch bench grinders specifically introduced for heavy-duty industrial use. This red grinder is more then it looks as Baldor has done quite a job maximizes this tool's performance delivering an efficient amount of power. The 1/3HP motor delivers 3600 RPM which is plenty of power for working with metals, concrete, and other material.
This 6-inch model is great for smaller projects, but handles larger projects with ease. Backed by a 3-year warranty gives you piece of mind, but Baldor only used high-quality parts in its construction. For safety conscious users it passes all OSHA standards and with an integrated adjustable tool rest you can work both vertically and horizontally.
8.8/10
Easy to operate
Protect eyes from debris
Reasonable price
Durable and long-lasting
Sturdy construction
Plastic safety guards may interrupt the performance
Vibrates and produce noise while working
Hands-down the most affordable 6-inch bench grinder in this review is this Central Machinery model which scores an 8.8 out of 10. For a cheaper alternative it overdelivers in power and gives you plenty of juice for grinding, shaping, sharpening and much more. When it comes to efficiency, this Central Machinery power tool is right there which is powered by a 1/2HP motor.
The 1/2HP motor allows you to power through any project and doesn't bog down. The perfect design offers great balance with reduced vibration when compared to others in it class. For added durability it sports all-steel ball bearings and for added versatility the tool rest is adjustable and includes the eye shields.
8.2/10
Electric powered
Comes with manufacturing warranty
Portable and easy to use
Heavy duty
Smooth and powerful
Wobbly wheels
Flimsy tool rest
One of the best-selling 6-inch bench grinders in this review is a Rockwell classic and is the highly regarded Shop Series model. This grinder does just that and everything in between which features a 2-amp power input for added versatility. Weighing in at under 20 pounds makes it extremely lightweight and comes in with a price tag well under $100.
For the price you'll be hard-pressed to find another 6-inch bench grinder with an adjustable tool rest which delivers precise control. Other highlights include a 36 and 60 grit wheel, eye shields and a quiet operation.
Conclusion
When looking at any of the above 6-inch bench grinders there is no wrong decision. Budget will come in to play as some are more expensive than others and are better suited for industrial and regular, rigorous use. No matter what your skill level is and what you're looking to get out of a new grinder, you won't go wrong with any in this review.