Angle grinders have become a must have tool for enthusiasts and professionals and have become a mainstay in every toolshed. When looking at consumer products, the term cheap doesn't always mean inferior in quality, but it takes a consumer wise decision to get the most for your money. When looking for cheap angle grinders that perform like models priced more it's harder than it sounds which, but its what we do best.
When looking for cheap angle grinders that boast high-performance features and options that typically cost much more, it takes a lot of trial and error. We've managed to take the guesswork out of buying while introducing the best of the best grinders that don't cost a fortune. We've looked at how they perform under all working conditions and compiled them in our latest review.
This review details the Best Cheap Angle Grinders Under $100 and looks at what the average DIY user cares about the most.
9.5/10
Pros
Powerful motor
Light in weight and easy storage
Easy handling
You can adjust the handle
Removes material faster
Cons
Topping our review as the best cheap angle grinder this year is a DeWalt model that is a smaller grinder with a paddle switch. This switch makes operating and changing out the disc safer which should be a standard in all angle grinders and DeWalt makes great use of it. Aside from this, this model boasts amazing performance for a bargain model delivering 12,000 rpm on a 9-amp motor.
The power is one thing, but the precision is something different and DeWalt nailed this as well. Out of the box, this 4 ½-inch angle grinder gives you a one-touch guard along with a 360-degree rotation, side handle which can be mounted for left and right-handed use, and a quick change wheel release without the need for tools.
9.4/10
Pros
Powerful motor
Sturdy construction
Durable and long-lasting
Versatile features
Compact design
Cons
No drawback has been reported so far
This small angle grinder from DeWalt claims the 2nd spot in this review and gives you a whole lot for a whole little. This grinder works aimlessly out of the box and is the perfect addition to any tool shed. Giving you the practicality to grind, sand, sharpen and polish in one with a lightweight, compact design.
The DeWalt 4120 has been received well by consumer giving it a perfect 5-star consumer Amazon rating. Some of the biggest differences seen in this model lacking in others include speeds to 12,000 rpm on a 9-amp motor, one touch guard system that moves to 360-degrees for seamless operation, 2-position side mounted handle, and a 5/8″-11 spindle that works with 4 ½-inch accessories.
9.4/10
Pros
Best for small to medium duty tasks
Very light in weight
Faster material removal
Comes with wrenches
Easy to carry
Cons
Does not come with overload protection
Most of you have probably never heard of Drill Master, but after reading this you'll want to take notice. Their rendition of a cheap angle grinder is exceptional and is probably the best bargain in this review. Coming in around $25 is a small price to pay considering it boasts a simple to use operation and allows for seamless use with all types of DIY projects.
This 4 ½-inch angle grinder features great motor life housed by all-metal bearings allowing you to extend the motor's life. Other features include a spindle lock, handle that can be adjusted in one of two positions, and a durable die cast aluminum frame that offers plenty of protection and keeps it lightweight.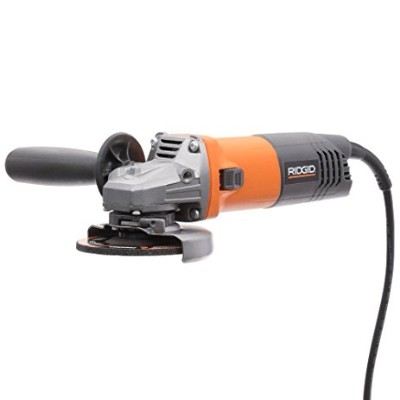 9.4/10
Pros
High power makes it more efficient
Works at a high speed
Lightweight makes it portable and easier to hold
Safety and comfort features incorporated
Requires no batteries for operation
Cons
Cord may get really hot and melt
Slide switch may be considered inconvenient
Ridgid is another bid name that makes this review with a 4 ½-inch grinder that comes in much less than the competition. This grinder ensures long life with an efficient 8-amp motor that delivers great results. For the price you won't go wrong and it'll surprise you with its performance. Ridgid even backs this product by offering free parts after product registration which gives you piece of mind and ensures you're getting a well-built, quality product.
Out of the box you get the grinder, spanner wrench, clamp nut, wheel guard, grinding wheel and instruction manual so you won't need anything else.
9.2/10
Pros
Resilient and stable
Compact and accessible
No stress of expenses or replacement of batteries
Convenient due to it light weight
Small microprocessor
Durability and protection due to metal gear casing
Cons
The speed cannot be regulated
Does not feature a grinding pad
Black & Decker has become one of the most trusted names in power tools and introducing bargains has become their specialty. This easy to use grinder won't exactly win any rewards, but does everything that's intended and a bit more. Highlighted by an efficient 6.6-amp motor that delivers 10,000 RPM, it proves its more then enough power to accommodate the DIY enthusiast in you.
The Black and Decker G850 gives you out of the box use and includes a spindle size from 5/8 to 11 inches, 3-position handle along with a contoured handle for improved control and user comfort and backs their product with a 2-year limited warranty.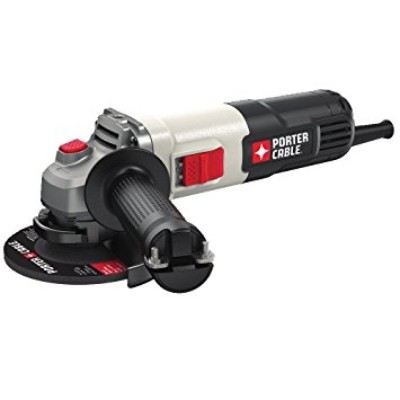 9.1/10
Pros
Lightweight adding to the portability
6 amp motor making it powerful
A metal case gear increases the permanency
Works at a good speed
Tool-free guard change allows adjustments to be done
Cons
Requires batteries as well for usag
Porter-Cable makes this review with a small angle grinder which gets the job done. Perfect for smaller projects and over-delivers in power with its compact frame delivering 12,000 RPM perfect for quick material removal with ease. The motor is a 6-amp model that optimizes power output giving you more juice then it looks.
This grinder comes in affordably priced and is much cheaper than other grinders in its class. Highlight features include a metal gear case which helps protect all vital parts and guard change which makes it easier to change and doesn't require any tools.
8.9/10
Pros
Air powered
Built-in blade for protection
The grip handle is equipped with a safety throttle
Provision of a lever
90 psi for polishing and preparation for surface
Cons
Speed cannot be controlled
Absence of a spindle lock
Neiko makes their only showing in this review with an air powered grinder complete with a safety throttle. Scoring an 8.9 out of 10, this grinder features as unique angle and has become a fan favorite among welders looking to pre-treat material prior to welding. Other popular uses are buffing and rust removal which are only some of the many.
This air powered angle grinder runs at 11,000 RPM and with a free speed and works ideal at 90 PSI. Notable features include a comfort grip handle, safety lock handle, blade guard built-in, and machined steel construction. The durability for such a compact grinder is uncommon, but Neiko made sure this lightweight has it all.
8.7/10
Pros
Minimum noise and vibrations
Smooth functioning
Portable
Light weighted
Comes with its own spanner
Cons
Grease leaks
Bulky rear body
Black & Decker makes another appearance in this review with another small angle grinder which has become one of the best-sellers on Amazon. With nearly 200 all-positive reviews, this cheap model gives users everything they need including a lightweight, efficient, and compact design. This simple to use grinder is perfect for polishing, sanding, sharpening, buffing and much more.
The Black & Decker 7750 would have received much higher, but the build construction is not the best. Notable features include a 5.5-amp motor delivering 10,000 RPM RPM, 2-position handle for right and left handed use, and works with spindles ranging from 5/8 to 11 inches.
8.7/10
Pros
Paddle switch – provides for multiple, comfortable grip positions
Powerful motor – 10 amps and 11,500 rpm
Carbon brushes – more durable than previous-generation brushes
Direct-motor cooling for higher overload capabilities
Cons
Button/latch that allows the grinder wheel guard swivel or is removed is very tight
Doesn't come with a carrying case
Coming in just under $100 is this Bosch angle grinder which is a 4 ½-inch model and features a paddle switch. The switch makes for safer and quicker disc changes and features many comfort grip positions. For a compact model the motor is surprisingly powerful running at 10-amps and delivering 11,500 rpm.
The Bosch GWS10-45P is a great example of bargain buying as it performs more like a model priced hundred more. Notable features include a side handle which can be used in one of two positions along with a comfort grip which reduces vibration direct motor cooling which reduces the risk of higher overload.
8.5/10
Pros
No paddle switch
Great value for the money
Sturdy built and durable
Easily accessible brushes
Simple to use with minimal learning curve
Cons
No variable speed control dials
This Makita grinder ends this review with a modest 8.5 out of 10 which is damn good considering how many we reviewed. This grinder is a 4 ½-inch model and includes grinding wheels onboard which makes your cuts, buffing, and sanding more precise. The barrel grip is smaller than most, but provides optimal comfort especially for long, continuous use.
Other features include a numerous construction seals which help encase the vital parts and keeps dirt, dust and other debris from contacting. This design performs bigger than it looks so don't let the 4-pound frame fool you.
Conclusion
If you're in the market for a cheap angle grinder we've compiled the best models available right now. All of which come in below $100 which gives you a great deal for your money which means there's more to spare on other power tools to populate your tool shed with.
If you have any unanswered questions, we'll respond to your comments below.